First, the status quo of performing arts and lanterns production enterprises

In Guangdong, the production of performing arts and lanterns is quite concentrated. There are more than a dozen conventional lamp manufacturers and hundreds of computer lamp manufacturers. The Guangdong region was selected for this study. By understanding the current situation of these companies, we summarize some of their common characteristics: 1. Basically private enterprises.

The companies we surveyed are basically private enterprises, mostly with family members as the core of leadership, or a husband and wife shop, or a brotherhood partnership, or a family of two generations. Enterprises with this nature and investment model are more risk-aware, cost-conscious and market-conscious, driving production operators to be more diligent, more dedicated and more dynamic.

2. Unremitting struggle and growing.

These enterprises have experienced hard work for several years or even decades, looking for the market, seeking survival, seeking development, and making the company bigger and stronger through unremitting efforts. Among them, a number of enterprises with considerable production scale and development capabilities have emerged, such as: Zhujiang Lighting & Audio Co., Ltd., Caiyu Stage Lighting & Audio Co., Ltd., Yajiang Optoelectronic Equipment Co., Ltd., Huihong Audio & Light Equipment Factory, Jinyang Lighting & Audio Equipment Factory, Foshan Feida video equipment company. Some of them have just moved into new factories, ranging from 10,000 square meters to tens of thousands of square meters. The production site is spacious and bright, and new production equipment has been added. Enterprises dare to invest, constantly expand reproduction, and seek greater development space, indicating that these enterprises have accumulated rich capital in the development process, and also show that these entrepreneurs are full of confidence and expectation for enterprise development.

3. Strengthen enterprise management and strive to standardize and modernize production and management models.

These companies attach great importance to corporate management and continuously improve management. Many enterprises have passed the ISO9000, ISO9001 quality management system certification and imported into operation. Some enterprises have also passed the international CE and UL safety certification. Some enterprises have adopted the "ERP" computer network management system to enable production, supply, marketing, marketing, Information feedback and after-sales service are organically combined to ensure high efficiency. Many enterprises strengthen the production of raw materials, the acceptance of the quality of each component, strictly control the quality of each process on the production line, strengthen the testing and debugging of products, and pay attention to the after-sales service of products.

4. Emphasis on the construction of technical teams and enhance the cultural and technical accomplishment of employees.

Leaders of enterprises recognize that technical talents and management talents are important to the sustainable development of enterprises, and it is very important to seize a larger market share in the future. They actively create their own management team, cultivate technical backbones, and try their best to recruit highly educated and highly educated employees. Among these enterprises, the proportion of employees with college education or above has been greatly improved.

5. Entrepreneurs who understand both technology and management.

Some corporate managers have many excellent qualities. They are not only hard-working, but also good at learning.

They delve into technology, are familiar with the market, are good at marketing, and have accumulated rich experience in corporate management in the process of starting a business. They actively cooperate with foreign companies, absorb international advanced management concepts and technologies, and strive to be in line with the international advanced level. They are the hope of the future of the company.

6. The road to future development is even more difficult. From the overall situation, enterprises with high management level and strong technical capabilities are only a few after all. A considerable number of enterprises are still in the initial and intermediate stages of the start-up period, facing the shortage of production sites and thin technical strength. Problems such as low management level. Therefore, promoting and promoting the overall quality of the entire industry still has to go through a long and arduous process.

Every enterprise will face the reality of enterprise upgrading and market competition. Ordinary enterprises must strive to create famous domestic enterprises, and domestic well-known enterprises must strive to become internationally famous enterprises. All of this requires enterprises to have capital reinvestment, study and reinvestment, and technology reinvestment. Decision making and courage. Whoever can solve this redevelopment problem will eventually win more and more domestic and international market share.

Second, the status quo of performing arts and lanterns production

Along with the growth of the company's strength, the improvement of management level, the upgrading of production equipment, and the construction of technical R&D team, the production of performing arts and lanterns has also gone through a process from imitation to independent development, from processing to independent brands. Level to high quality, from small to diverse, serialized.

1. Imitation and processing have accumulated experience and capital in production management.

For the processing and production of branded products for foreign companies, the company has accumulated a wealth of redevelopment capital, and has trained and produced a number of production backbones, technical elites and management talents.

2. Product serialization.

At present, China's domestic performing arts lamps have both conventional lamps and intelligent lamps. There are a wide range of conventional lamps, such as skylights, backlights, spotlights, PAR lights, soft lights, imaging lights, chasing lights... everything. There are also many varieties of intelligent lamps, such as scanning computer lights, shaking head computer lights, multi-function computer lights, computer color changing lights, and LED lights. The production of serialized products shows that the production capacity of performing arts lamps in China has made great progress, which not only meets the needs of the domestic performing arts market, but also exports to the international performing arts market.

3. Product quality continues to improve.

The technical team of the enterprise is becoming more and more mature. Many enterprises start from the generation of processing, copying foreign products, or starting from the mutual reference of domestic enterprises. In the process of industry development, the leaders of the enterprise gradually realize that they do not have their own technology and do not have their own technical team. The quality of products cannot be guaranteed, and enterprises will not be able to survive, let alone develop.

Nowadays, many large and medium-sized enterprises producing a variety of performing arts and lanterns have established dozens of technical teams, supervising the design and innovation of optical, mechanical and electrical structures, carrying out the design and innovation of components to the overall system, and putting each in the production process. The technical aspects of the link have improved the quality of the products.

4. Product quality, brand nationalization.

After one or two decades of development and growth, the quality of products has been improved to varying degrees. At the same time, a number of high-quality products have been produced. The main technical indicators have reached the international advanced level, and some performances have surpassed the similar high-end products from abroad. .

In the export products, it is no longer a single OEM product. Some enterprises have already launched their own brand products into the international market. Chinese national brands are gradually entering the auditoriums of Europe, America, Asia and Africa. , clubhouse and theater.

5. The overall level is still low, and product upgrades must continue to work hard.

Although the variety and quality of Chinese performing arts lamps have made great progress, there are few bright spots, few breakthrough points, few brands, and leading technology and independent design. The reality is still: following the domestic and foreign similar products, the small change has changed a lot, and the appearance change has been patented. This reflects that China's performing arts lighting production enterprises are still insufficient in research and development, and their development capabilities are not high.

In the conventional lamps, some varieties still stay at the stage of copying similar products of the same kind at home and abroad, the quality is not high, the optical performance is not good, and it is difficult to enter the ranks of product evaluation.

3. Impressions and suggestions for promoting the development of performing arts lighting equipment in China

1. Emphasis on innovation and innovation, focusing on innovation.

At present, many products in China are more imitated than innovation. It is understandable to be more imitated in the initial stage of the enterprise, but it is impossible to have a long-term development because of imitation and plagiarism. We can't stay in the ranks of simply catching up with the international advanced level. We should strive for innovation and base ourselves on transcending the world's top level and playing our own national brand. While learning advanced foreign technology and concepts, we must actively digest, absorb, integrate and transform these concepts, and ultimately implement technological innovation and product upgrading.

2. Both production and R&D are important and focus on development.

Improving the production capacity of enterprises is the basis for improving product quality and enterprise development. Enterprises should not rely solely on simple expansion and reproduction, but should pay more attention to technology research and development, increase investment in technical strength and research funding, and develop new technologies and products. This is the foundation for enterprise development and prosperity. Enterprises should pay attention to the research and development of lighting application functions, and pay attention to the design and development of lighting optical systems. These two technical work are the basis for the successful development of new lamps and the premise of high quality of new lamps. Product development work can carry out two-way or multi-directional cooperation between enterprises and universities and research institutes, with foreign companies and experts, and lighting designers, and hold new technical lectures, product seminars, technical and product demonstrations, and more Ways to improve the technical literacy of R & D personnel, and constantly consolidate the foundation of technological innovation and product development.

3. Emphasis on diversity and specificity, focusing on research specificity.

Product diversity can meet the needs of the entire performing arts industry, product specificity can meet the special needs of performing arts lighting, resulting in special lighting effects. The special functions of special lamps should be outstanding, the technology should be exquisite, and the effect should be significant. In-depth research and practical grasp of product specificity are important prerequisites for developing new products and improving quality.

4. Pay equal attention to both popularization and improvement, and focus on improvement.

Popular products should be inexpensive, suitable for the majority of small and medium-sized users, and have the quality of universalization, but also the problem of quality improvement. Enterprises should pay more attention to high-end technology, strive to develop high-quality, sophisticated and sophisticated products, and actively enter the domestic and international high-end products market.

5. Promote the development of lighting in the direction of automation, intelligence and networking.

Advanced lighting equipment brings great flexibility to the performance of the art, and also brings new situations to market changes. From producers to users, we should pay attention to the development prospects of stage lighting, and strive to transcend from concept to practice, and promote the development of China's stage lighting to automation, intelligence and networking from partial to overall.

Fourth, actively carry out performance lighting equipment evaluation activities

China's performing arts equipment manufacturers and their products have undergone several years and decades of development, and the industry structure has begun to take shape, laying a material foundation for product evaluation; entrepreneurs and technical engineers have achieved quality awareness and market awareness. And the sense of competition provides an ideological basis for product evaluation; product users and operators have brand awareness, quality awareness and after-sales service awareness, which lays a good social foundation for product evaluation. In order to accelerate the development of China's performing arts equipment, create quality products, build domestic and international brands, and carry out evaluation activities in the production enterprises of the association members, the conditions are already in place and the time is ripe.

There is only one purpose for carrying out the evaluation of China's performing arts and equipment products, which is to promote technological competition and promote continuous upgrading of products. The evaluation work should first establish strict operational rules, regulations and methods, establish corresponding working institutions, and strictly implement the three principles of openness, fairness and fairness in the evaluation process. It is recommended that the evaluation work be carried out from the performance of the lamps and lanterns, and several lamps will be selected as pilots. After gaining experience, the evaluation work will be comprehensively promoted.

The application function of the product is the basis of the product and the first element of product quality assessment. In the assessment, we should take the application function of the product as the entry point and carry out the testing and evaluation of the corresponding technical parameters of each function. Pay attention to the positioning and comparison of various performances and technical parameters, pay attention to the comparison between similar and similar products, and carry out scientific evaluation work in a serious, strict and strict manner. It is recommended that the evaluation work should set the validity period of quality products to three years. Random sampling and user survey should be conducted in three years. If the review fails, the title of quality products should be revoked.

We believe that under the correct leadership of the China Performing Arts Equipment Technology Association, as long as we adhere to the "three public" principle, adhere to the "three strict" attitude, implement scientific methods and procedures, and get the support and recognition of the majority of enterprises, product evaluation work will certainly be achieved. success. This work will become a powerful booster for manufacturers to improve product quality and create famous brand names. It will definitely create a new situation in China's performing arts equipment production industry than technology, quality, brand, mutual prosperity and harmonious development. .

The LED projector lamp is used to specify the luminance above the surrounding environment, and also called the spotlight.Usually, it can be aimed at any direction and has a structure that is not affected by climatic conditions.It is mainly used for large area operation field, building outline, stadium, overpass, monument, park and flower bed.As a result, almost all outdoor use of large areas of lighting can be seen as a projector lamp.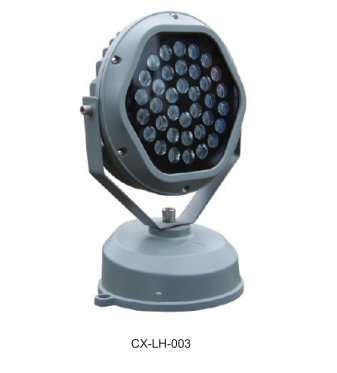 Description of products

1. Fashionable, modern appearance design, make lamps and lanterns also become a work of art, with the environment perfect union.

2. The main material of the luminaire is made of high strength die-casting aluminum material, and the surface anti-aging electrostatic spraying process, Self-cleaning and anti-corrosive.

3. Tempered glass cover with high strength and impact resistance.

4. The lamp can be configured white or monochromatic RGB, gorgeous lighting effects, color purity, powerful change.

5. The lamp body is made of high - die cast aluminum material, surface electrostatic spraying

6. The unique rotatable fixed bolt can be rotated 360 degrees.

7. The light source adopts 1W single RGB light source, LED combination optical arrangement, and the mixing effect is better.

8. The light can be controlled by DMX512, a powerful function of changes in lighting effects.

9.Lamp series, power can be between 18W-36W, can be used for a variety of applications.

Product Size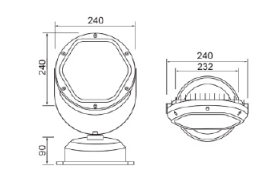 Product show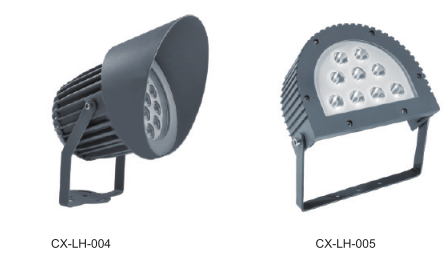 Installation Instruction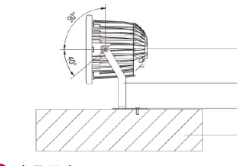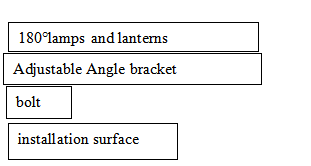 Led Tile Slots Lamp,Led Project Lamp,Led Night Lamp,Led Mood Lamp

Jiangsu chengxu Electric Group Co., Ltd , https://www.satislighting.com